INFORMATION
2023/03/02
On March 1, a groundbreaking ceremony was held for the CO2 liquefaction, storage, and cargo handling facility for the project "Research, Development and Demonstration Projects on CO2 Ship Transportation".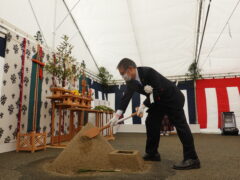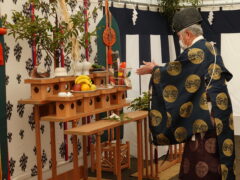 On Wednesday, March 1, a groundbreaking ceremony was held for the CO2 liquefaction, storage, and cargo handling facility to be constructed in Maizuru City, Kyoto.
The groundbreaking ceremony was attended by about 40 people, including the mayor of Maizuru city, the chairman of the city council, city officials, local officials, METI officials, and contractors, who joined in a ritual offering prayers for the safety of the construction work.
In June 2021, the New Energy and Industrial Technology Development Organization (NEDO) publicly solicited applications for the "Research, Development and Demonstration Project for CO2 Ship Transportation" and four companies, Japan CCS Co., Ltd. (JCCS), Engineering National Association of Japan (ENAA), Itochu Corporation (ITOCHU), and NIPPON STEEL CORPORATION (NIPPON STEEL) jointly applied for and were selected to conduct research, development and demonstration of liquefied CO2 ship transportation technology.
CO2 captured in another NEDO project (*) at the Maizuru Power Plant of Kansai Electric Power Co. will be used for this transportation demonstration project. The CO2 will be liquefied and stored at the Maizuru terminal, loaded onto a demonstration vessel using cargo handling equipment, transported by ship, and unloaded and stored at the Tomakomai terminal using cargo handling equipment. By repeating this series of steps in both directions between the Maizuru and Tomakomai bases, the project will develop and demonstrate integrated CO2 ship transport technology.
This transportation demonstration is scheduled to begin in earnest around the third quarter of 2024 and last approximately two and a half years until the end of FY2026.
After the groundbreaking ceremony, President Nakajima was interviewed by the press and stated about the meaning of the demonstration that, "The distances between industrial clusters, which are the source of CO2 emissions, and suitable CO2 storage sites are large in many cases, so in order to transport CO2 at large scale and at low cost, it is necessary to establish technology for transporting CO2 by ship. Through this demonstration, we hope to securely establish the transportation element of the CCS chain."
Also, after the groundbreaking ceremony, a project briefing was held for local stakeholders.
(*) NEDO "Research on the applicability of advanced carbon dioxide solid absorbers to coal combustion flue gas".
For more information about the project, click here.