INFORMATION
2018/06/20
Site Visit of Tomakomai CCS Demonstration Center was held on June 19, 2018.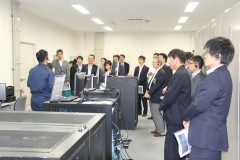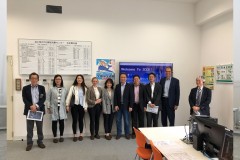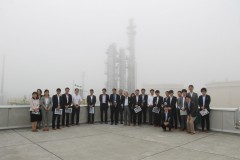 The "Japan CCS Forum 2018", organized by Global CCS Institute, and with support from Japan Coal Energy Center, Japan CCS Co., Ltd, and Research Institute and Innovation Technology for the Earth, was held at Iino Hall & Conference Center in Tokyo on June 18, 2018. As a side event, the "Site Visit of Tomakomai CCS Demonstration Center" was held on June 19, 2018.
In spite of concerns of the effect of a major earthquake occurring in the Osaka area the previous day, and possible disturbance of transportation due to stormy weather, a total of 31 persons participated, including 8 visitors from abroad.
From New Chitose Airport, the bus tour started by stopping at Lake Utonai, a bird sanctuary exemplifying the rich natural environment of Tomakomai, and arrived at Tomakomai CCS Demonstration Center. After presentations in English and Japanese, the visitors proceeded to the control and monitoring rooms in order to view the operation and monitoring systems.
The tour included a view from the rooftop of the control building, from which Mount Tarumae would be visible in the distance on a clear day; unfortunately, due to the heavy fog, it was not possible to get a panoramic view of the plant. However, the visitors were able to see the main facilities by way of an on-site bus tour.
The tour ended with a visit to the Takinoue Observation Well approximately 15 minutes way, after which the bus returned to New Chitose Airport.
During the presentations and site tour, the visitors asked many interesting questions, to which we tried our best to answer. We also had discussions on various issues related to CCS. Though it was a short one-day tour, we hope that the visit was as fruitful for the participants as it was for us.