INFORMATION
2022/05/23
Japan CCS exhibited at Hokkaido Government Office on May 17 and 18.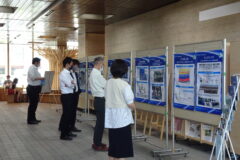 This is our 11th panel exhibition at Hokkaido Government Office. Though we were unable to dispatch personnel over the last two years due to the COVID-19 situation, we were able to provide an in-person explanation this year. Many people came to see the exhibition during their lunch break.
We would like to thank the visitors for taking time out of their busy schedules.