INFORMATION
2019/10/16
Japan CCS Co., Ltd. signed an MOU with Canada's International CCS Knowledge Centre on October 8, 2019.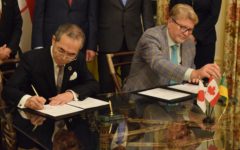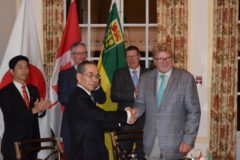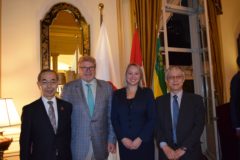 With a shared interest and desire to take impactful action on climate change by significantly cutting carbon emissions, Japan CCS Co., Ltd. and International CCS Knowledge Centre (Saskatchewan, Canada) have agreed to collaborate on accelerating the use and understanding of carbon capture utilization and storage (CCS/CCUS), and a joint commitment in the form of a Memorandum of Understanding (MOU) was signed on October 8, 2019 (TU).
On hand to witness the signing of the MOU at the Official Residence of the Canadian Ambassador to Japan was the Honorable Scott Moe, Premier of Saskatchewan, His Excellency Ian Burney, Ambassador of Canada and Mr. Hideki Makihara, State Minister of Economy, Trade and Industry of Japan.
The MOU signals a path forward to collaborate in the development, demonstration and deployment of CCS/CCUS thereby reducing greenhouse gas (GHG) emissions.