Tomakomai CCS Demonstration Project
Tomakomai CCS Demonstration Project
LARGE- SCALE CCS DEMONSTRATION PROJECT IN TOMAKOMAI AREA (Commissioned by METI)
JCCS submitted a bid for the public tender for the "FY2012 Tomakomai CCS Demonstration Project" held by METI, and was selected as the contractor for this work. As a result of this commissioning, JCCS began from FY2012, the implementation of the demonstration project aiming to make practical CCS technology by FY2020.
During the first 4 years until FY2015, facilities to receive CO2 gas emitted from a hydrogen production unit of a refinery - the CO2 source, and to inject the CO2 underground were designed and built, and the conversion of one existing survey well into an observation well and drilling of 2 observation wells and 2 injection wells were completed.
At the same time, in order to verify that CO2 injection into the reservoir will not affect the surrounding environment, a monitoring system to record formation and earthquake data was established, and baseline data prior to injection was obtained.
Completing this preparation work, JCCS has commenced the injection of 100,000 tonnes/year or more of CO2 into the first of two reservoirs located at depths of approximately 1,000 m and 3,000 m, under the seabed in the offshore area of Tomakomai Port.
Going forward, the behavior of CO2 in the reservoir will be monitored, and this monitoring will be continued to verify that there is no leakage of CO2 and that natural earthquakes do not affect the stored CO2 by comparison with the baseline data acquired prior to injection. In addition, monitoring of the marine environment such as observation of seawater and marine organisms will be conducted in a similar manner.
Furthermore, as part of our information disclosure efforts, we are providing information on the status of the injection operation on a real-time basis via a monitor screen installed in the Tomakomai City Hall.
http://www.jccs-tomakomai-monitoring.com/JCCS/index.php/top/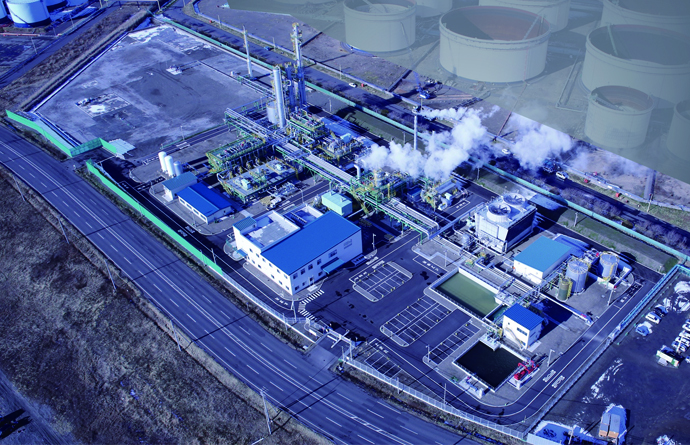 Tomakomai CCS Demonstration Facilities
Demonstration Project Area